Hi, I'm Iljitsch van Beijnum. I'm a freelance network architect, specializing in internet routing (BGP) and interconnection between networks (peering and more).
On this site I post both work related and somewhat less work related articles, for purely work-related information, see BGPexpert.com. Some of the blog posts here are in Dutch, others are in English.
Seven years ago, the RIPE NCC, which serves Europe, the middle east and the former Soviet Union, was no longer able to give out IPv4 address space to ISPs and other networks as needed. From that point on, the "last /8" policy came into effect, which meant that each "RIPE member" or local internet registry (LIR) could get one last IPv4 /22 (block of 1024 addresses). It very much looks like that last bit of IPv4 address space will run out before the end of the year.
Right before the final /8 policy came into effect, the RIPE NCC was giving out about a million IPv4 addresses per week. In 2019, they gave out a million IPv4 addresses every three months in the form of those final /22s. And now it's a million IPv4 addresses every six weeks, with two million left to go. Apparently, many new LIRs are set up to get one of those /22s while they last.

latest version of this image on the RIPE website
So in all likelihood RIPE will move from the final /8 policy to a new policy, where LIRs are put on a waiting list and get a /24 as those become available, before the end of 2019.
Permalink
- posted 2019-09-09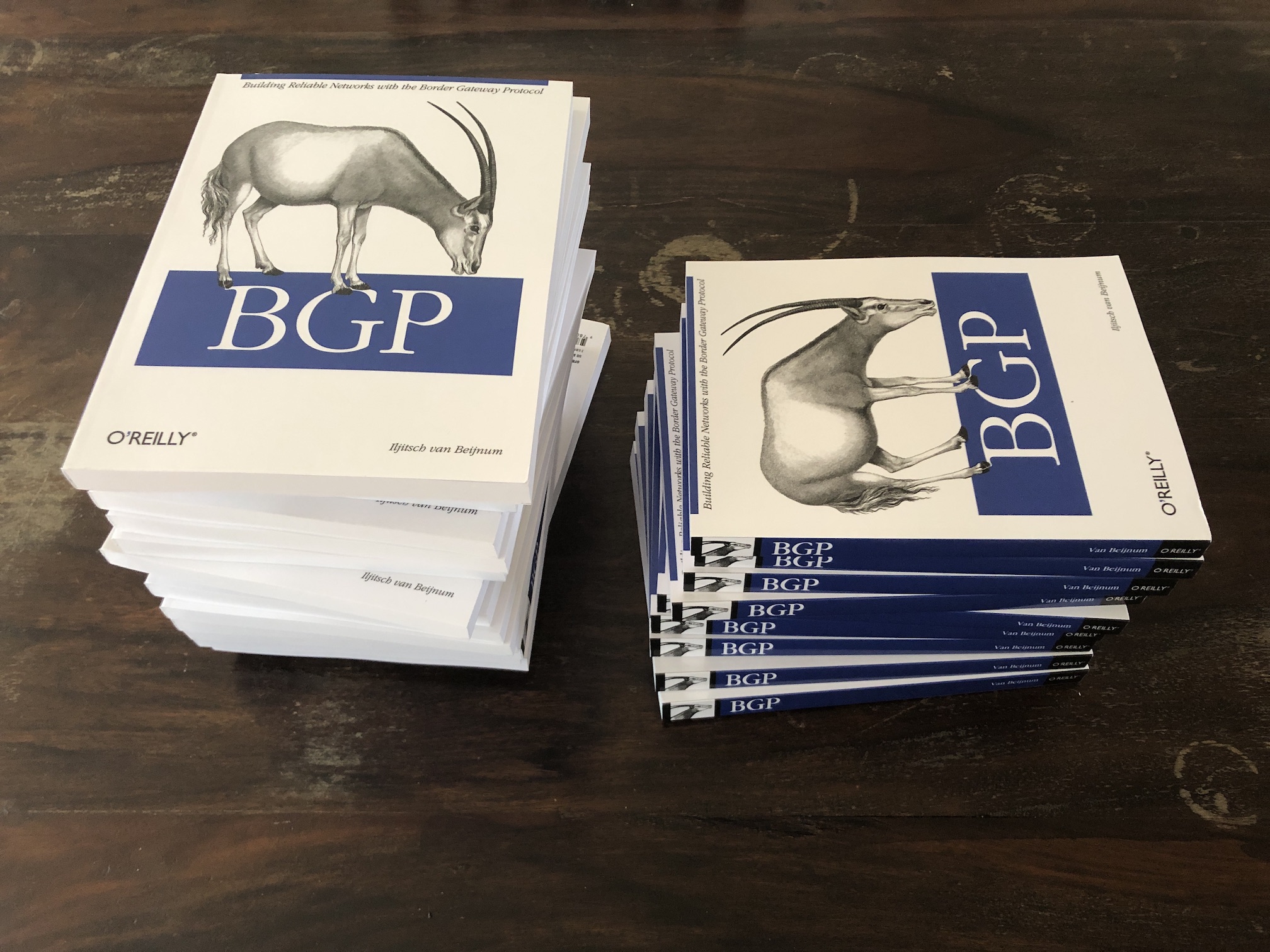 You can never have too many BGP books
Image link - posted 2019-09-09
▶ So with all the technical details out of the way in part 1, let's have a look at where to get 4K content and whether it's worth the trouble and the expense. Where I've found 4K content...
Full article / permalink
- posted 2019-08-26
▶ Although it says "4K TV", as far as I know, there's (virtually) no actual TV broadcast in 4K, so what I'm really talking about here is the state of home theater technology as of around 2018. This post is about the hardware and the formats. Part 2 will be about 4K content and whether the 4K thing is worth the money.
Full article / permalink
- posted 2019-08-22
Interessant: de NRC schrijft over BGP en route leaks. Ben benieuwd of dit elders opgepikt gaat worden.
Lees het artikel - geplaatst 2019-07-12
Een iets aangepaste versie van mijn post 112-storing: hoe voorkomen we zulke problemen op het internet? van eerder deze week staat nu op Netkwesties. Klik de link om het daar te lezen.
Lees het artikel - geplaatst 2019-06-27